The Thought That Grows..
We make greeting cards full of wildflower seeds, with paper made from biodegradable post-consumer waste. That means that you can give your card a second life by planting it in soil, growing flowers that are good for you, and good for the environment. 
10 New Cards! Life Events & Milestones Collection
Grow Your Card Kits are BACK!
These kits contain everything you need to grow your card at home - just add water and sun! These planters are 3D printed from Plant Based materials, a more sustainable option to plastic planters. We've also included a dehydrated soil wafer that expands to regular planting soil when you add water. Comes in 3 colours!
Shop Grow Your Card Kits
Watch your card bloom..
Our plantable cards are made with high quality, tested and approved seeds that grow in to beautiful and strong flowers.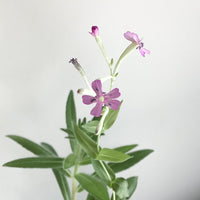 Our Cards Give Back..
Every purchase supports Canadian Non-Profits. 
You can read more about our Community Partner by clicking here. 
Contact Us
If you're curious about custom cards or orders, would like seed paper at your event or wedding, or just feel like saying hi, reach out to us: